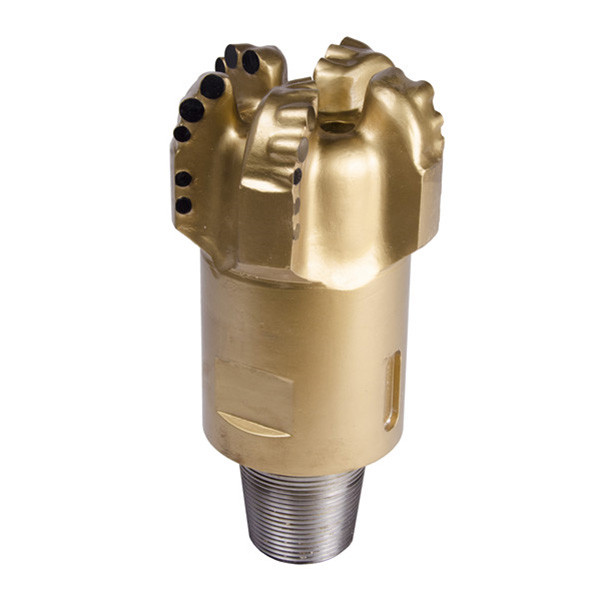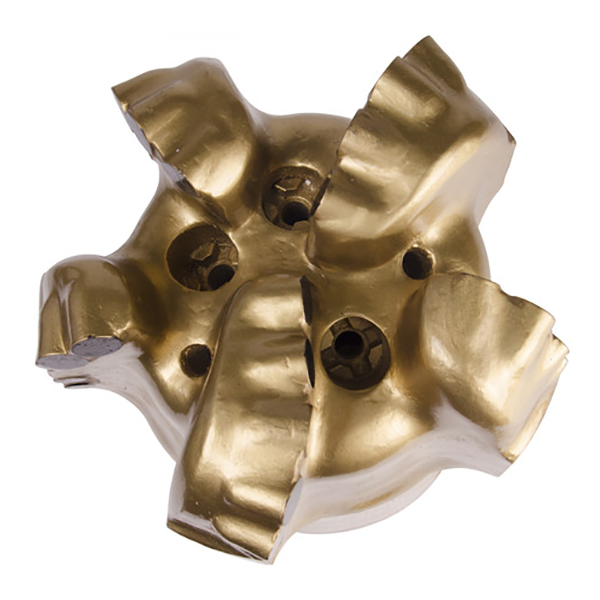 1、Summarize
Polycrystalline Diamond Compacts (PDC) Bit, which was one of the three new technologies of well drilling in 1980s, utilizes stable polycrystalline diamond cutters to drill. As it is a high integrated type of bits, there is no moving parts on the bit body. Though its structure is relatively simple, it performs well for its high strength, high abrasion resistance and impact resistance. Field application proves that PDC bit has the merits of high speed, high footage, long life, stable working, less accidents and high quality shaft when drilling in soft to medium hard formations. PDC bit not only has a long working life, but can be recycled as well. There's little difference in drilling performance between the new bits and factory repair ones, which can greatly save the drilling cost.
2、Structural features
Tungsten carbide matrix PDC possesses high abrasion resistance and impact resistance.
Parabolic crown and maximized chip area guarantee a better performance of cleaning and prolong the bit working life.
There are five renewable nozzles applied with hydraulic balance design. Reasonable nozzle locating angle can provide an ideal flow distribution in shaft bottom. It can fully clean and cool the cutters to prolong the cutters working life.
Asymmetry blade placement enhances the drilling balance.
Optimization of cutter shape, dip angle, cutter numbers prolong the cutter working life. Combined with high quality PDC cutter, it can improve ROP and drilling efficiency.
It can be used on rotary table or down hole motor.
High HIS is recommended.
3、Recommended drilling parameters
Bit Size (Inches)

Recommended drilling parameters

Flow Rate

(L/s)

Rotation Speed

(r/min)

Weight On Bit

(KN)

Specific Hydraulic

Horsepower (HIS)

Makeup torque

(KN·M)

8 1/8

25-38

60-250

30-100

2-7

24-26.5

8 3/8

25-38

60-250

30-100

2-7

24-26.5

8 1/2

25-38

60-250

30-100

2-7

24-26.5

8 3/4

25-38

60-250

30-100

2-7

24-26.5

9 1/2

25-38

60-250

30-100

2-7

40-45

12 1/4

44-66

60-250

30-100

2-7

50-60
Note: The upper limits of drilling weight and rotary speed recommended in above table could not be used at the same time.
4、Main Type
Type

Bit Size

Std.API pin Shank Size


(inches)

Approximate weight


of bits (Kg)

inch

mm

8 1/8M1953GZFA

8 1/8

206.4

4 1/2REG

63

8 3/8M1953GLFA

8 3/8

212.7

4 1/2REG

67

8 1/2M1234AL

8 1/2

215.9

4 1/2REG

70

8 1/2M3235AL

8 1/2

215.9

4 1/2REG

70

8 1/2M2235ALF

8 1/2

215.9

4 1/2REG

70

8 1/2M3235BLF

8 1/2

215.9

4 1/2REG

70

8 1/2M2235L

8 1/2

215.9

4 1/2REG

70

8 1/2M3236AL

8 1/2

215.9

4 1/2REG

70

8 3/4M3235AL

8 3/4

222.3

4 1/2REG

72

8 3/4M2235ALF

8 3/4

222.3

4 1/2REG

72

9 1/2M3235L

9 1/2

241.3

6 5/8REG

85

9 1/2M3236L

9 1/2

241.3

6 5/8REG

85

12 1/4M3235

12 1/4

311.1

6 5/8REG

105