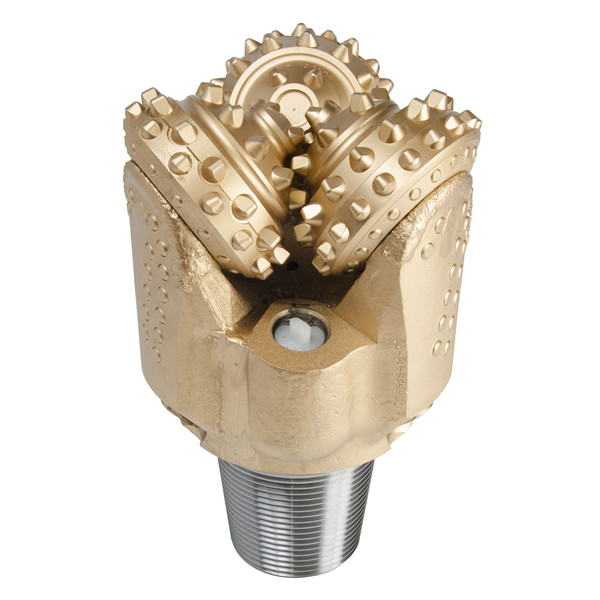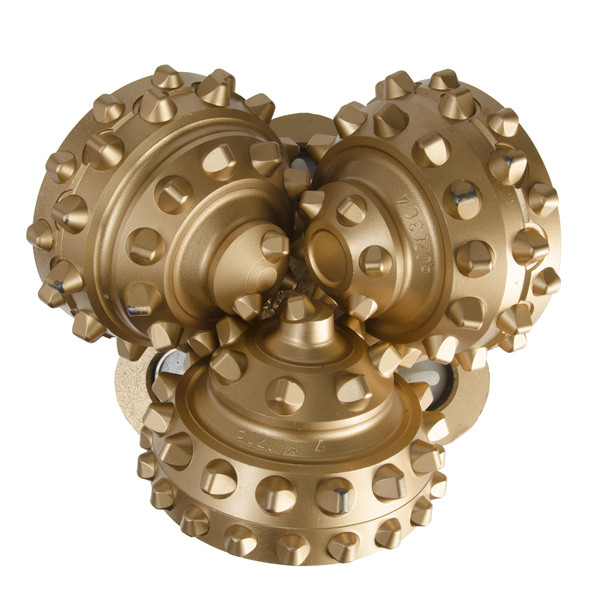 1、Summarize
The metal sealing structure of this series is one of the world's advanced technologies, structures of metal sealing, which can work stably at high drilling speed. It is the ideal tool for directional drilling and horizontal drilling and can provide better drilling performance with screw drills. Compared to common rubber sealing bits in China, this series can provide a promotion around 35% in average life (net drilling time), which has reached advanced domestic metal face sealing bit products.
2、Structural features
This series of bits adopts asymmetry teeth placement in combination with optimized teeth height and shape, which can provide a well performance of high abrasion resistance and excellent cutting capacity.
Apply the high accurate metal face sealing technology, sealed by an elaborate metal seal ring and using special coatings on metal face, to ensure the efficiency of bearing system.
Journal bearing tooth palm shaft surface stacked welding wear-resistant alloy layer, tooth wheel inner hole silver plating, improve the bearing capacity and bite resistance.
It utilizes an elaborate floating bushing made of high strength material between friction faces and adds a floating slice on thrust face, which adds one more friction system into the bearing to reduce the relative speed of bearing system. It can reduce the friction face temperature and increases the PV and abrasion resistance of the bearing to make it work longer.
New material is applied on the part of gauge protection. Palm utilizes extended structure for gauge protections. It can reduce the friction between the palm and shaft, improving quality and stability of shaft body as well as protecting the back of leg and seal.
New oil storage sealing system ensures a better suppling capacity of lubrication for bearing system, which can greatly reduce the damage to bearing.
Steel ball is locked on cones, suitable for high rotary.
3、Recommended drilling parameters
Formation

Bit Type

Drilling Weight

(KN/mm)

Rotary Speed

(r/m)

Very soft with low compressive strength, such as soft marl, clay,unconsolidated sandstorm, salt, etc.

GHJ437

0.30-0.90

180-60

Soft with low compressive strength, such as shale, clay, sandstone, soft

limestone, etc.

GHJ517

0.35-1.05

180-60

Medium soft with hard abrasive streak, such as hard shale, soft limestone,sandstone, etc.

GHJ537

0.35-1.05

180-40

Formation with moderate hardness with high compressive strength, such as hard shale, limestone, sandstone, dolomite, etc.

GHJ617

0.4-1.05

160-40

Formation with high compressive strength, medium-hard and high abrasive properties, such as limestone, dolomite, sandstone, flint, etc.

GHJ637

0.50-1.05

160-40
Note: The upper limits of drilling weight and rotary speed recommended in above table could not be used at the same time.
4、Main Models
Bit size

Bit Type

inch


mm

8 1/2

215.9

GHJ437、GHJ517、GHJ537、GHJ617

8 3/4

222.2

GHJ437、GHJ517、GHJ537、

9 1/2

241.3

GHJ437、GHJ537、GHJ637

10 5/8

269.9

GHJ537、GHJ637

12 1/4

311.2

GHJ537、GHJ637

13 5/8

346.1

GHJ637
Additional features can be selected according to SY/T 5164, and can be designed and developed according to user requirements.